Project 004 - Portable Voltage/Current Source
Updated 27/02/12
DISCLAIMER: This design is experimental, so if you decide to build one yourself then you are on your own, I can't be held responsible for any problems/issues/damage/injury that may occur if you decide to follow this build and make one yourself.
INTRO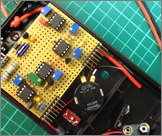 A handy instrument in any electronics workshop is a Portable Voltage Source, however they tend to be a bit on the expensive side for the hobbyist. Then, you might need a separate Current Source and so before you know it hundreds of pounds have been spent.
Also, having worked hands-on in Oil & Gas electronics for 25+ years the importance of a good Voltage/Current (4-20mA) source for instrument testing/simulation/calibration and electronics design/repair is paramount.
So, I decided to build my own. However, if the truth be know, for my own home workshop a simple Voltage Source would have done, but for the addition of a few extra components a 4-20mA current output has been added.
Specifications:

0-10vdc output.
4-20mA source output.
3.5 digit LCD.
Single 10-turn potentiometer for Voltage & Current modes.
Over-Load (current) protection for Voltage mode.
Pot override via toggle switch for direct access to max/min outputs.
Removable pcb.
Possible future mods:
4-20mA sink output mode.
Low battery indication, possibly using the O/L LED.
Higher precision.
An Eagle PCB layout!
PARTS LIST
Main parts (detail will be added later):
1 * 143 x 78 x 34mm black ABS box (battery compartment suitable for 2off PP3 batteries)
1 * CX101B 3.5 digit LCD panel meter
1 * 5k 10turn potentiometer
1 * SPDT miniature toggle switch (3-pos)
1 * 3PDT miniature toggle switch (2-pos)
4 * OP295 op-amp
2 * BC337 npn transistor
2 * BC558 pnp transistor
1 * ZVN3306A FET (ideally should be something better, the lower the RDSon the better)
1 * DC-DC converter, +5v to +24vdc. 1.5W (65mA) Cosel SUW1R50512
1 * LP2950ACZ-5.0 +5vdc LDO regulator
1Lot * resistors
1Lot * trimpots (prototype has many more for testing only)
1Lot * capacitors
1Lot * SIL connector headers
2 * Crocodile clips c/w red/black 16AWG silicone rubber tails
TECHNICAL
I wanted to base the design around readily available parts such as op-amps & transistors rather than use custom electronic parts that I have used in the past, i.e. Burr-Brown do some great 4-20mA conversion IC's. I also wanted the power supply to be single rail so that it would run off a PP3 battery (9v). Op-amps chosen with this in mind.
As well as the 10-turn control potentiometer there is also 2off toggle switches.
SW1 = Voltage / Current mode select.
SW2 = Control Potentiometer override to max or min output (works in both voltage & current modes).
SPECIFICATIONS:
Current consumption = 30mA - 35mA (should give approx. 40hrs continuous use with a Lithium PP3)
Minimum PP3 voltage = 6vdc
Voltage mode D.P. =XX.XX
Current mode D.P. =XXX.X
NOTES:
5v regulator, accuracy 0.5%.
U1 = Input potentiometer buffer, 0-10vdc output drive & Over-current detection.
U2 = Buffer & voltage to current conversion.
U3 = 4-20mA output drive & LCD scaling for current mode.
U4 = Buffer for LCD output voltage mode.
ZVN3306A = Open 4-20mA loop forces LCD to zero.
SW1a = Analogue signal selection to DVM.
SW1b = Main analogue output selection.
SW1c = D.P. selection
Lithium PP3 battery recommended (2 to 3 times capacity of standard PP3). Look for "Lithium 1604" in spec.
WORK IN PROGRESS:
The design still needs a few caps added here and there to assist with noise immunity/stability, but so far so good it's working fine.
Some of the trimpot values (and series resistors) may need optimized to make them less sensitive thus easier to set up as well as helping stability.
SCHEMATIC DIAGRAM:
Here's the current diagram in PDF format here.
Please note it is NOT final, I am still playing with the power supply (DC-DC converter) so things may change here..

PHOTOS (LATEST AT THE TOP)
21/02/12 - Prototype case complete.
20/02/12 - Testing / calibration.
Still waiting on the 3PDT switch, but managed to runs some tests and calibrate the device.
1.00vdc in photo.
19/02/12 - Build photos - Pcb assembly
18/02/12 - Build photos - Internal wiring
18/02/12 - Build photos - Initial construction